Sue ft. VJR Jewels fashion report by Team Peter Stigter!
As soon we arrived at the Transformatorhuis we knew something was up. SUE ft. VJR Jewels was not going to be your average LAB fashion show. As a starter there was a dog laying front row (that's a first!). But there were also women in wheelchairs placed in front of the rest of the audience. As the first model appeared it became clear: Warriors of the new revolution turned out to be a fashion show on wheels.
All models elegantly drove onto the runway in a wheel chair making a clear statement on diversity. And why not present a collection shown by models in wheelchairs and therewith portraying a refreshing image of beauty. As far as designer Kelly Sue is concerned beauty comes from with. Her fashion label Sue is all about diversity and this collection spoke about power, militancy and spirit.
That power was visible in fashion classics like the trenchcoat, the jeans and the pencil skirt. All developed for a sitting position to perfectly fit the customer in a wheel chair. Even with the selection of fabrics designer Kelly Sue kept her special customer in mind opting for elastic and airy fabrics. A new fashion category of 'Seated Fashion' is born!
The selection of casual must've designs was given some extra strength by the army inspired VJR Jewels attached to the clothes, the gloves, the accessories. A doggy on the runway accompanying it's owner all the way up to the photogapher's pitch gave the show a welcome soft touch; 'oohs' and 'ahhhs' all over.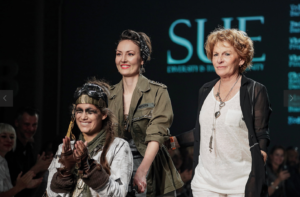 Lees hier het hele report inclusief veel mooie fotos!
met dank aan Team Peter Stigter (fotos)